Share:
---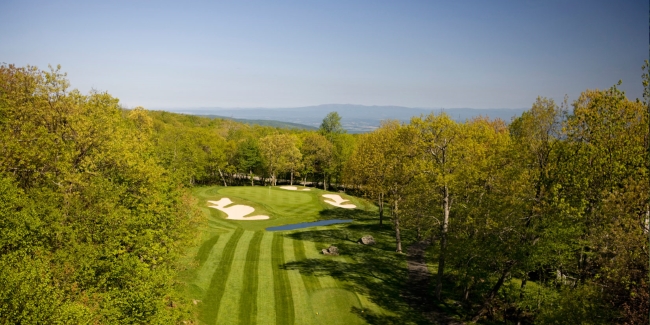 Devils Knob Golf Course
A Blue Ridge Beauty
By Mike May
Very few golf courses have refreshingly, stunning mountain-top views which are outmatched by the quality of the entire golf course experience. Devils Knob at the Wintergreen Resort in rural Virginia fits that bill. That's a good thing. While the appeal of playing golf on a mountain top with jaw-dropping views of the Blue Ridge Mountains may be what draws you to Devils Knob at Wintergreen (www.wintergreenresort.com), the overall quality of your journey from the driving range to the 1st tee to the 18th green is what you will always remember and will bring you back for yet another round. Again, the views of the Blue Ridge Mountains from many of the greens, tees, and fairways will generate an indelible image (or two or three) in your mind, but the brilliance of golf course architect Ellis Maple's clever and creative imagination with this rocky and rural piece of Virginia real estate is what will leave every golfer begging for one more round at Devils Knob, which has the highest elevation (3,850 feet above sea level) of any golf course in Virginia. It's never difficult convincing anybody to play Devils Knob one more time.

With the exception of the long par five 10th hole, which, at times, borders parts of the 11th and 18th fairways, every hole at Devils Knob is its own complete, independent and cocoon-like experience. All other holes at Devils Knob are bordered and surrounded by the forests of the Blue Ridge Mountains.
Please excuse the use of this cliché, but Devils Knob is the complete package. While the blue tees measure just over 6,700 yards, the white tees - at 6,123 yards - give you a fair fight so that when you walk off the 18th green with a good score, you know that you earned it. When Maple designed this par-70 layout, he produced a golf course that has wonderful balance, flow, and is in complete equilibrium.

The best two stretches of golf at Devils Knob are five holes on the front nine (holes 4-8) and the first six holes of the back nine (holes 10-15). On the front nine, that five-hole sequence features a par 3-par 5-par 3-par 5-par 3 combination. How often do you see that? The 7th hole is an uphill, 530-yard par-5 which deserves its #1 handicap ranking and where pars are precious. On the first six holes of the inward half, you have a quartet of short par fours which are bordered by the longest hole on the course (the 547-yard 10th hole) and a medium length par three (the 166-yard 15th hole), which has the highest elevation point on the course. Reaching the greens of those short par fours - 11th, 12th, 13th, and 14th -- in regulation requires discipline, patience, and a fundamentally sound swing. Any wayward stroke will send your ball soaring into the forest. At Devils Knob, the driver is often not the club of choice on many of the tees as the reward of hitting a long tee shot is outweighed by the possibility of a tee shot drifting into the woods.

"Devils Knob is actually quite a bit flatter than your typical mountain course," says Matt Burch, head golf professional, Devils Knob Golf Course. "Although it looks to have lots of slope and terrain, most lies in the fairway are more fair than one would expect. Weatherwise, the temperatures never really rise above 80 degrees -- a very nice experience versus playing in the heat of summer."

While the fall is the tail end of the golf season at Devils Knob, it might be the best time of the year to play.

"The views here in the fall are simply amazing, as members and guests are able to see the leaves change and enjoy the natural beauty that Wintergreen and Devils Knob have to offer," adds Burch.

As you begin your round of golf at Devils Knob, note that there are only five Golf Course Rules listed on the scorecard. The last one is the most important: "Please leave the golf course in better condition than you found it." Devils Knob is such a fine piece of real estate that you should be motivated to fill in at least twice as many divots as you create and to never leave a bunker unraked. It's a pleasure and a perk to play Devils Knob. And, it's a genuine thrill to play Devils Knob a second time. When you walk off the green at Devils Knob's home hole, you will glance down the 18th fairway and reflect on your just- completed golf experience. You will agree that, as stunning as the mountain-top views were during your round, the quality of the golf course was just a little better. And, that's a good thing.

Revised: 09/20/2016 - Article Viewed 19,265 Times - View Golf Course Profile
Share Comment
Written By: Mike May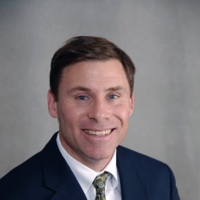 Mike May is a Wellington, Florida-based freelance golf and sportswriter, who is also a 25+ year public relations and communications executive in the sporting goods industry. He is also a veteran high school soccer official, an experienced high school basketball coach, an avid athlete, a part-time personal trainer, and a passionate golfer who is forever in pursuit of Old Man Par. He is a member of the Golf Writers Association of America.